Black Friday seems to come up quicker every year. 
Last year, 79.2 million US consumers shopped online during Black Friday, 70% of which was specifically towards holiday gifting.
And every year, everyone recycles the same advice. While there are definitely some best practices to follow, you might feel like you need some fresh ideas.
We've got you covered – here are five fresh tips for your BFCM marketing campaigns.
BFCM Tip #1: Start Your Black Friday Promotions Earlier
Let's be real: Black Friday is no longer sequestered to the weekend between Thanksgiving and Cyber Monday. 
And it hasn't been for some time. 
The holiday shopping season has pushed earlier and earlier. We now see holiday shopping starting under the guise of "generic big sales" in October.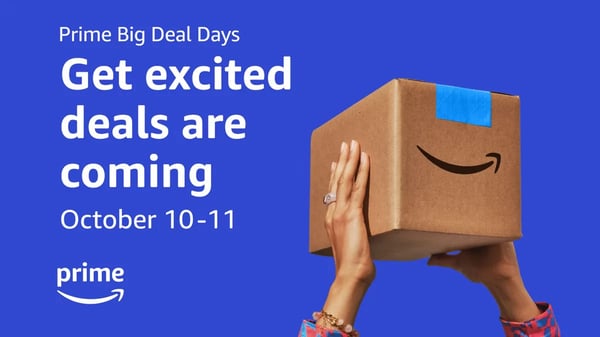 And it's in direct response to how customers are shopping – they shop earlier and earlier to get a jump on their holiday gifting.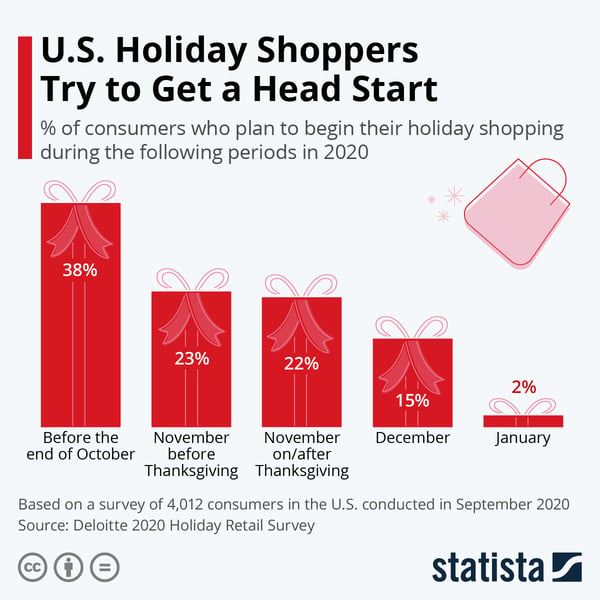 Our tip? Start your holiday promotions early and ramp up into your best deals during BFCM weekend. 
But maybe save your holiday puns and imagery until November. 
BFCM Tip #2: Break Your Promo Schedule Down into Three Parts
BFCM and the holiday season can be overwhelming. You have so many moving parts in place, and something could get dropped as a result.
You super don't need that to happen. Instead, break things down into manageable chunks that you can deal with one at a time.
We recommend splicing up your email campaigns between three main stages: 
Pre-Black Friday: 
This is the time where you're ramping up your holiday promotions, teasing new products, offering early bird discounts, etc. 
Black Friday Weekend (BFCM): 
This is for your impressive discounts, incentives, and reminders throughout the weekend. Consider making your best sales time-sensitive throughout the weekend. 
Post-BFCM: 
Keep up the momentum: use urgency and FOMO to drive final sales for the holiday season. Be sure to include reminders for the last-day-for-Christmas-delivery (and last-day-for-New-Years-delivery).
This will help you get more organized and work out ideal timing for your holiday campaigns.
BFCM Tip #3: Offer Holiday Price Matching
So you're offering early-bird discounts and advanced sales. What about your customers who experience the FOMO of purchasing too early and missing out on a great deal? 
And it's oftentimes your customer who tries to wait out the best deal and ends up missing the products they wanted altogether. 
A simple fix for this is to offer holiday price matching.
This might seem scary – after all, who wants to retroactively refund customers for their purchases?
Here's how you can make it work:
BFCM Tip #4: Use the Most Powerful Marketing Channel You Have – Email
In case it isn't clear, email is your best friend this holiday season.
Unlike other marketing channels, this is the channel you own.
You're not beholden to some algorithm. You don't have to worry about a competitor outbidding you for space in your customer's inbox.
You send a message. That message gets to your customer when you send it. The customer sees exactly what you originally sent. You're in complete control of every detail.
On top of that, if a customer has signed up to get your emails, they've manifested intent. They've displayed some kind of concrete interest in your brand and they want to hear from you.
That's powerful.
Use this power during BFCM and the holiday season wisely:
Send Teasers:
Everyone loves a teaser. Tease your upcoming promos, new products, anything that gets your customers excited. 
Offer Early Access:
Show your customers and VIPs that you appreciate them. Offer them early access to your biggest and best deals.
Offer the Daily Drop:
Get your customers excited over a longer period of time. Offering a daily deal or daily product drop is a great way to get successive purchases.
Lead with the Value You Offer:
Every subject line in your customers' inbox is going to have something about Black Friday deals. Be sure you're giving your customers a reason to click.
Don't Neglect Your Preview Text:
You only have so much subject line to use. Take advantage of your preview text to make use of more inbox space. 
Email is too powerful a channel to ignore this holiday season. Use these tips to get even more out of it. 
BFCM Tip #5: Get Those Lifecycle Critical Automation Workflows in Place
The last thing you need to do during BFCM is worry about whether your new or returning customers are being nurtured enough. 
That's what marketing automation is for. 
And if there's ever been a time to get your lifecycle-critical marketing automation workflows in place, it's leading into BFCM weekend. 
These are the key workflows you should have in place heading into BFCM:
Welcome: To nurture new subscribers and turn them into customers. 
Browse abandonment:

To bring back those who took a look, but didn't purchase. 
Cart abandonment:

To bring back those who started a purchase but didn't finish it. 
Order confirmation

and

post-purchase: To nurture recently purchased customers and offer a great overall experience. 
Win back and reactivation: To pull those who are about to churn back into the fold. 

There's never been a better time to try automation if you haven't already. And if you don't have a marketing automation platform (or yours makes automation too complicated), Drip can help. 

We can help you get the most critical automation workflows up and running in a few clicks. And the best part – you can try it absolutely free. 

No matter what you use to implement those workflows, you can't afford to ignore them this holiday season.